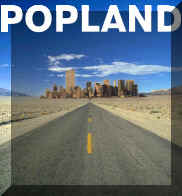 In popular music there are no boundaries - except maybe those enforced by good taste and judgement. For Popland , it's all about a special feeling. You know, that familiar thrill of a classic pop song coming together perfectly to hit that sweet spot between heart and soul. For Popland , a song is a wide canvas waiting patiently for the artist to dab true colours onto, mixing the influences of four decades of pop music like paint on a palette. And delivering (hopefully) an awe-inspiring masterpiece.
Groovy!
An expression of former times - over the years, kids have said - "COOL! KEEN! RAD!" and the like, to convey a sense of satisfaction, of approval perhaps. Groovy - the album, aims to evoke those same emotions in its listeners. Without pretense and without artifice, Popland has gleefully knuckled down to its happy task to provide ten songs of blistering intimacy and craft - what you hear is what you get! Songs honed in the rehearsal studios by the trio and finally laid onto magnetic tape for the rest of the world to enjoy.
Popland is Kevin Mathews on vocals & guitars and Tim Nolan on bass. Mathews, is a Singaporean singer-songwriter who has previous work under his belt with Watchmen, most notably the number one radio hit My One & Only. Nolan, an expatriate Brit, paid his dues in the eighties with jazz-punk outfit Pinski Zoo and the HowdyBoys. Together, Mathews and Nolan, as The Crowd, released their ode to sixties powerpop love songs - Pop - in 1997. On Groovy, the dynamic duo are aided and abetted on the skins by the ubiquitous Ray Aziz. Aziz, of course, is well known in Singapore pop circles for his contributions to bands as diverse as Opposition Party, Sugarflies and Cracked Healer.
The result is a balanced amalgam of funky groove-driven nuggets married with soft and warm acoustic numbers. The former direction includes such "live" favourites as Never Liked the Beatles, There She Stands and Let It Roll. For the latter, look no further than the enchanting flavour of Distant Mirrors, Beautiful and Here.
Popland: Groovy is the maiden release of fledging Singapore pop label KAMCO Records that exhorts its customers to "get touched by the power of pop" .
Don't worry, you will be.

(p) & (c) 1999-2002 KAMCO Records
Digital imaging by Tim Nolan limnolan@pacific.net.sg