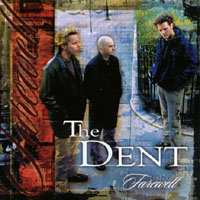 THE DENT Farewell (Thursday Morning)
I really liked The Dent's 2002 EP release, Neurotica and found it enthralling with its delicate emotional folk-tinged pop music. On this, the band's sophomore full-length release, only the fragile "End of the World" returns as Mitchell Linker, Jeff Norberg and D. Raub deliver ten other new tunes that will continue to impress pop pundits worldwide.
Jumping on the power pop bandwagon with the thumping title track, midtempo "Look Up" and frenetic "Fantastic," The Dent attempts to stretch its musical boundaries somewhat and whilst the boys give it their best shot, one senses that they're more comfortable with heart-on-sleeve, atmospheric, folky ballads one might associate with Crowded House, Coldplay and perhaps early Radiohead.
The previously mentioned "End of the World" leads the way with its touching premise, "Second Home" is a poignant piano song in memory of a departed friend ("All the love in this town/Always be your second home"), "Without Fail" is a sad reflection on past failures and "Lost Alone" is a gloomy discourse on the fear of loneliness.
Not quite living up to the standard set on Neurotica, there is still sufficient evidence on Farewell to suggest that The Dent is a band worth investing time and money in, if only they can sustain clarity in their musical direction. B+