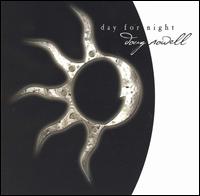 DOUG POWELL
Day For Night
(Parasol)
www.parasol.com
Doug Powell never fails to astonish me. His talent, vision, expertise & gifts are so extraordinary that I often find myself questioning whether any words or description can fully do justice to the amazing music that he produces with such remarkable consistency.
As a critic, I would usually search for reference points to make my task that much more easier when reviewing and I presume that was the purpose of including names like XTC's Andy Partridge and Todd Rundgren in the press release.
But really, why stop there?
John Lennon, Paul McCartney, Brian Wilson, Pete Townshend, Jeff (ELO) Lynne, Tony (Genesis) Banks, Eric (Raspberries) Carmen, Freddie (Queen) Mercury & David Bowie all figure in the Doug Powell equation certainly but that's not the whole story.
Not by a long shot.
I firmly believe that the 70s produced probably the best rock and pop music ever as the wondrous 60s were absorbed and assimilated and amalgamated into new and exciting approaches. Powell lays down the 70s template and develops his own unique voice through the perspective of subsequent generations and the result is a distinctive sound that is as much 70s classic rock as it is Powell's.
Day For Night is Powell's fifth full-length album and quite possibly it is his most accomplished yet, with songs ranging from the accessible powerpop belter "Invincible" to the prog-rocker "Stanislaw Smith," from the fragile epic ballad "Beautiful" to the pseudo-operatic popper "Goodbye Lady Godiva."
Powell is also a man of faith & conscience and he deals with these issues with aplomb and artistic sensitivity, for example:
In "Big Blue Sky," Powell decries the siren call of compromise, "I don't care about averages/They don't mean a thing to me/There's no fruit in the orchard/Of fame and fortune/It's all media-ocrity."
In "Shine," Powell explores the great mystery of the inner light, "There is no other recipe/No prescription and no remedy/I know, yes, I know/There is no other whiter paint/Worn by sinners and by saints/I know, yes, I know/When you shine…"
However, it all comes together in the aforementioned "Invincible" in which Powell wraps his thoughts on a positive outlook – "On the shoulders of God/The only want is want/I suffer the slings/I suffer the arrows/I suffer for the invincible" – around a irresistible chord progression and killer hooks. Heavenly!
So yes, Doug Powell never fails to astonish – give him the opportunity to do the same for you. A+