BLAST FROM THE PAST!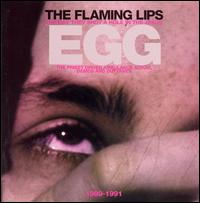 Flaming Lips The Day They Shot A Hole In The Jesus Egg (Restless/Rykodisc)
I must confess that I only got into the Lips with the hullabaloo surrounding the release of The Soft Bulletin. So, I was glad to read about the re-issue of the Lips' entire back catalogue with Restless Records before Wayne and his merry band jumped ship to Warners. Egg is the 2nd part of the re-issue programme collecting the final Restless LP, In A Priest Driven Ambulance and the oft-bootlegged demo booty Mushroom Tapes over a two CD set.
By all accounts, the album proper is an absolute psychedelic acid punk gem and features a pre-Mercury Rev Jonathan Donahue on guitar contributing his own distinctive talents to Wayne Coyne's flipped out sonic landscapes.
Described as the band's 'religious album' by Coyne's next-door neighbour, In A Priest Driven Ambulance contains all the external freak beat rudiments – raging feedback, massive distortion, sound effects, incoherent wordplay and Coyne's Neil-on-helium vocalizing.
However, what sets the Lips apart from your run-of-the-mill punk and lays the groundwork for the future masterpiece that is The Soft Bulletin, is that underneath the sheen of difficult tonalities & incomprehensible jargon beats a fragile soft pop heart. Wayne Coyne is after all, a romantic. How else do you explain the fairly straight faced (for the Lips anyway!) version of "(What A) Wonderful World" shorn of the expected cynicism?
Thus, classic Lips tracks like the optimistic "Rainin' Babies" – 'This is my present to the world/
And I want you to take it/This is my present to the world/Take it from me, please please take it from me," the driving "Unconsciously Screamin'" – 'Seeing the unseeable, filling down the void/We're not what we used to be/We're not really boys,' and the thought-provoking from-a-whisper-to-a-scream "Five Stop Mother Superior Rain" – 'My hands are in the air/And that's where they always are/You're f--ked if you do, and you're f--ked if you don't/Five stop mother superior rain,' demonstrated that the Lips were destined to be much more than rank amateur punk rockers.
The Mushroom Tapes are if anything even more 'out there' than the final recordings, if that is at all possible for the Lips. A loose, spontaneous, unconscious vibe permeates these demos sometimes enhancing the effect – noticeably on the raucous "Mountain Side" and the spacey "Unconsciously Screamin'" (another funked up version appears as a bonus track which attests to the magnificence of the song surely). But revealing also the off-the –cuff jams like "God's A Wheeler Dealer" where Coyne and Donaghue trade vocal and guitar licks, the dirge-like "Agonizing" and the authentic "Jam." Bonus tracks include the incongruously joyous "Golden Hearse," seriously bizarre versions of "Stand in Line" and "Five Stop Mother Superior Rain," not to mention a truly valuable cover of the Sonics' "Strychnine" melded with Nick Lowe's "Peace, Love and Understanding."
A enlightening snapshot of a genius band in the making. A