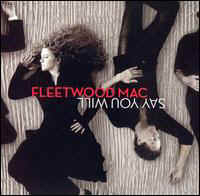 FLEETWOOD MAC Say You Will (Reprise)
Alright rock fans, you know the drill by now. Classic rock band reunites to record reunion album to support reunion world tour every now and then to maintain stately mansions, flashy vehicles, various chemical addictions, assorted playthings – ah, the lifestyle of the rich and famous!
What does it have to do with the music? Everything, if it's the business end you're talking about, if not…?
Case in point, Fleetwood Mac, with its most successful aggregation (viz. Lindsay Buckingham, Stevie Nicks, Mick Fleetwood, John McVie, well almost, as Christine McVie has now retired and is described only as 'additional musician' in sleeve) returning after a sixteen-year absence (not counting The Dance live album) to deliver a prolix album that just about spans the full 80 minutes possible.
Well, if nothing else, you could argue that that's value for money but again, that's a business perspective and I refuse to discuss rock music purely on those terms. So let's get some teeth and nails into this new Mac work shall we?
Ostensibly, Say You Will comes across as a split solo LP from Buckingham and Nicks (artists in their own right), especially so in the absence of Christine McVie's usual songwriting contribution. On that ground alone, this album succeeds if only halfway as Buckingham's songs are almost all winners with their pop savvy, strong melodic qualities and upbeat vibe whilst Nicks' materials displays too much of the new age hippie jive that is now pretty passé.
In that respect, songs like the breezy "What's the World Coming To?" the rustic "Miranda," the fragile "Red Rover," the driving "Peacekeeper," the Arabic confessional "Come" and the pleasing folky "Steal Your Heart Away" reveal that Buckingham's muse remains vibrant. Not that Nicks is wholly in her ex-lover's shadow, as the likes of the shiny title track, strident "Smile at You" and the atmospheric "Silver Girl" attest.
In places – far and between, it must be said – Fleetwood Mac is able to evoke former glories but by and large, Say You Will pales in comparison with its illustrious predecessors. Still, diehard fans will not be disappointed and sophisticated pop lovers will thrill to the work of Lindsay Buckingham.
B-