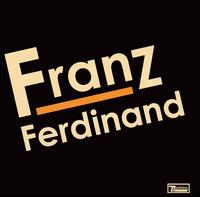 FRANZ FERDINAND
Self-titled
(Domino)
www.franzferdinand.co.uk
Déjà vu?
You may think that you've heard the music of hip Scottish band Franz Ferdinand before – and you'd be right. Over the course of listening to this eponymous debut, I had to check the CD sleeve to make sure I was not listening to an album from the 70s. Late 70s to be precise.
Despite writing and performing music that is strongly influenced by the post-punk new wave of thirty odd years ago, Franz Ferdinand has had no problems blazing a trail in the Top Twenty charts in their native UK.
Thus, songs like the addictive "Take Me Out," the melodic "The Dark of the Matinee" and the raunchy "Darts of Pleasure" recall the likes of The Cure (especially the vocals of Alexander Kapranos), Orange Juice, XTC, Gang of Four et al.
For what it's worth, whilst detractors may criticize Franz Ferdinand for being unoriginal and trapped in a time warp, there's no doubt that their dynamic edgy art-pop is a breath of fresh air in a scene saturated with the dank stench of hip-hop, glossy R&B and the like. B+
(Many thanks to Edward and Boon Pah for their invaluable contribution)