The story of Guided by Voices is virtually the stuff of rock legend. It begins in Dayton, Ohio - a town not known for any rock 'n' roll tradition - almost 17 years ago.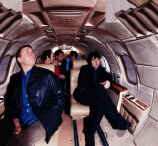 Elementary schoolteacher Pollard formed Guided by Voices in the early 1980s. Throughout the group's history, Pollard has been at the center, writing the majority of the songs and leading each incarnation of the band. For all intents and purposes, Pollard IS Guided by Voices: mind, heart, and soul.
This assertion bears out when you consider that it has been estimated that more than 40 musicians have wandered through the band at one time or another. One could say that Guided by Voices are more of a "music guild" than a rock band.
But fundamentally the earliest roster would include Mitch Mitchell (rhythm guitar), Kevin Fennel (drums), Jim Pollard (guitars) and Dan Toohey (bass).
The group released five LPs in six years viz Devil Between My Toes, on their own G Records in 1987; Sand Box, which appeared on Halo, Self-Inflicted Aerial Nostalgia, released on Halo in 1989, Same Place the Fly Got Smashed, appeared on Rocket #9 Records in 1990 and Propeller (1992), which was released on Rockathon Records.
At this time, Guided by Voices was essentially a hobby. The band rarely performed, and a wide array of musicians appeared on the group's albums. Significantly, Guided By Voices added guitarist (and secondary songwriter) Tobin Sprout to the line-up. Nearly all of the Guided by Voices albums up to this point was recorded at an eight-track studio located at Steve Wilbur's garage; Wilbur occasionally played guitar and bass on the records.
In 1993, Guided by Voices attracted the attention of Cleveland-based Scat Records and the label released the album Vampire on Titus. This record would be instrumental in exposing Guided by Voices to an audience outside the Dayton area. Among them, such other music luminaries as the Breeders (also natives of Dayton), Thurston Moore (of Sonic Youth), and the Beastie Boys. Later in the year, the band began playing live for the first time in several years, with Greg Demos replacing bassist Toohey.
With the band's popularity rising, Scat managed to clinch a distribution deal with a bigger indie label, Matador Records. It was a masterstroke. . Bee Thousand was the first album released under the deal, and became a surprise word-of-mouth hit, earning positive reviews from mainstream publications like Spin, Rolling Stone and even Entertainment Weekly. A brief segment on MTV News also furthered the mainstream onslaught. Pollard had quit teaching shortly before the album's release, and the group toured heavily behind the album, appearing on the second stage at several Lollapalooza dates. Demos left the band in late 1994 to study law and was replaced by music journalist Jim Greer.
As victors of bidding war over Guided by Voices, Matador won the right to release Alien Lanes in late March 1995. As with its predecessor, positive reviews came in rapidly, and the group embarked on its first full-scale American tour.
Despite all this critical success and attention, the band never changed their aesthetic, continuing to record their albums on cheap four-tracks tape decks (Alien Lanes allegedly cost $10 to make!) though limiting their mainstream potential, yet that devotion to lo-fi indie-rock helped Guided By Voices maintain a sizable (and loyal) cult.
Greer left the band before the recording for Under the Bushes, Under the Stars (to be replaced by a returning Demos), which was released in 1996. It consisted of a combination of heavily produced studio tracks (recorded by Steve Albini, credited as "Fluss" in the liner notes) and the usual lower-fi stuff that the band worked on themselves or with Kim Deal.
Due to increasing family pressures, Sprout would leave during the group's extensive tour for Under the Bushes, Under the Stars, which resulted in Pollard firing the rest of the group. At the end of 1996, Pollard recorded the next Guided By Voices record, Mag Earwhig, backed by the Cleveland garage-punk band Cobra Verde.
All change again as Guided by Voices re-surfaced in 1999 with a new line-up, a new record deal (TVT - home of Gravity Kills & XTC) and a new album - Do the Collapse - parlaying their trademark cool enigmatic power pop, inspired equally by jangle-pop and arty post-punk, falling somewhere between the British Invasion and prog-rock. This time out, the songs were embellished with slick production values courtesy of Ric (The Cars) Ocasek.
Ever restless, ever prolific...Pollard has released solo albums and side projects galore culminating in last year's monumental Suitcase, 100-strong box set that contained demos, outtakes and alternate versions collected over the last 17 years.
With no signs of slowing down, the story of Robert Pollard and Guided By Voices looks set to be told and retold for quite some time to come.
For more info etc visit www.gbv.com, one of the best band sites you're likely to find anywhere on the 'net.

GUIDED BY VOICES - ISOLATION DRILLS [TVT] www.tvt.com

If you recoiled at the alien resonance of the slick, slithering synths inserted by producer Ric Ocasek into the arrangements of most of Do the Collapse, Guided By Voices' last album, you will positively embrace the 'back-to-basics' approach of the new Isolation Drills.

Not that Do the Collapse was an inferior piece of work, mind you. However, it is evident that Isolation Drills more readily recalls what I would call the 'vintage' GBV sound. I should say, more specifically, the GBV sound most associated with their break-through albums, Bee Thousand and to a lesser degree, Alien Lanes.

I would have to provide a caveat to these sentiments though. Leaving aside much of its trademark quirkiness and employing a big guitar rock aesthetic, GBV have concocted perhaps their most accessible release to date whilst remaining true to their independent vision and focus.

Originally entitled Broadcaster House, Bob Pollard's (de facto leader of GBV) decision to use Isolation Drills, stems from a sense that it more reflects the thematic feel of the songs on the album. A perfectly logical conclusion, except that it has never been a GBV trait to be logical.

If nothing else, this name change signals a much wider break from GBV tradition as much as Do the Collapse heralded the arrival of high fidelity production values into the GBV vocabulary.

The keys to an appreciation of Isolation Drills, lie in Pollard's predilection for classic rock, cramming the timeless pop & rock of the 60s & 70s with the alternative college rock sensibility of the 80s to produce a uncompromising, idiosyncratic but ultimately pleasing result.

In recent interviews, Pollard has dropped significant hints that Isolation Drills would be a big guitar rock album in the grand tradition of Who's Next. This is already apparent from the hard rock riffs of Skills Like This which grooves with Townshend-like power chords, Pollard faux-Daltrey delivery and a stunning tone-shifting middle-eight. A standout track, a first amongst equals. The 60s meets the 80s as jangle-pop reminiscent of the Byrds and REM on the breezy Fair Touching and the moody Twilight Campfighter. Not many modern-day musicians would be brave enough to admit an obsession with Peter Gabriel era Genesis but Pollard, never ashamed to be true to himself, has managed to put progressive rock touches into the GBV scheme of things. Sister I Need Wine, a haunting acoustic number recalling also Robbie Robertson's Native American soundscapes - dangerous and edgy; Fine To See You is the nearest concession to balladry on Isolation Drills - a fragile beauty and Privately may just as well be prog-metal pop with its mellotron and guitar configuration.

With Rob Schnapf on the boards, it's no wonder that the likes of Run Wild, Pivotal Film & How's My Drinking contain a distinct atonal punk-pop influence of Foo Fighters and by default, Husker Du, the Pixies and Sugar. But the brightest spots on Isolation Drills belong to those special nods to Beatlesque powerpop - the sublime Chasing Heather Crazy and the infectious Glad Girls staking their claims to be played on radio shows all over the world.

Bob Pollard's aim continues to be true. Prolific and prodigious, he makes rock music like there is no tomorrow - unabashedly clinging to the magic of the past masters to create fresh masterpieces to stand proud in any company. His everyman songwriting compulsion results in compelling work, never selling out his own ideals and vision and guided only by one voice - his own. 9