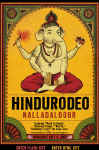 HINDU RODEO
Nalladaloobr
(Awkward Pop)
www.awkwardpop.com
Indulge me, folks, as I muse a little. A great comic book writer named Mike (Nexus, Punisher, Flash) Baron introduced me to the world of the powerpop underground about six years ago. One of his strongest recommendations was an album by a band with the oddest name – Hindu Rodeo. This power trio (consisting of drummer Jimi Englund, guitarist Dirk Freymuth and singer-songwriter-bassist Joel Sayles) released a fabulous debut eponymous album in 1995, which is a buried treasure and a wonder to discover. Find it at all costs and find out why.
Recently, it came to my attention that Hindu Rodeo issued a long-overdue sophomore album last year (without much fanfare, sadly). Rather quickly, I managed to obtain a copy (thanks, Joel!) and without a doubt, Nalladaloobr would have figured prominently in my top ten albums of 2003 if only, I had heard it a little earlier.
Better late than never, I suppose.
What struck me about Nalladaloobr was the indelibly sharp lyrical content that is consistent throughout. Sure, the music is edgy, melodic, smart and always passionate but as good as it is, I was truly blown away by the power of Joel's words.
Acerbic to a fault, Joel zeroes in on the culture that unfolds in his everyday life and fires away, seldom missing and hitting home almost every time.
In the raucous "Strip Bar," Joel doesn't hold back with describing the inherent sadness – "Take a look around/At all the lonely faces/Of the sexually frustrated/Getting sexually frustrated." The vibrant "Dumb It Down" expresses Joel's own frustration with modern pop culture – "You better dumb it down/The bottom of the bottom is the common ground/We're tired of the omniscient pushing us around/But the kids go crazy when you dumb it down."
These concerns are echoed in "McLifeTM" where Joel decries the homogenization of modern living – "I don't ever think/I don't every try/I don't ever live/I like my McLifeTM" and "American People" where Joel casts his discerning eye over his homeland – "American people like death/American people want war/American people resist/American people conform/American people like sex/American people are whores/American people want less/American people want more."
And there's more, from the sarcastic "Radio Ready" to the melancholy "Band With My Dad," there's no denying Joel's insight and way with a phrase and with a dynamic soundtrack that evokes the likes of XTC, the Beatles, Jellyfish, Brian Wilson and Cheap Trick, the picture is virtually pop perfection!
A powerful mélange of lyrical strength and musical dynamism, Nalladaloobr receives the highest recommendation. Power of Pop faithfuls should not be caught without it! A+