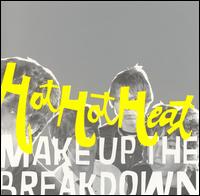 HOT HOT HEAT Make Up the Breakdown (Sire)
Is it 1977 all over again?
I mean, with Canadian quartet, Hot Hot Heat, it certainly seems that way as you can't escape the Talking Heads and XTC references they so gleefully tap into. Which I suppose in itself is not a unique thing but the real newsflash is that bands like Hot Hot Heat are beginning to make an impact on the mainstream.
Originally released by Sub Pop in 2002, Make Up the Breakdown now finds itself on the Sire label with all the attendant resources a Warners imprint possesses. Well, on the evidence here, it would be a shot in the arm for rock 'n' roll if Steve Bays, Dante DeCaro, Paul Hawley & Dustin Hawthorne do make all their pop dreams come true.
You just cannot ignore the sheer heady kinetic edgy pop that songs like Elvis Costello-channeling "Oh, Godamnit," the throbbing "No, Not Now," the nervy "Get In Or Get Out," the jiving "This Town" and the intriguing "In Cairo" deliver.
Is it 1977 all over again? Man, I sure hope so! A