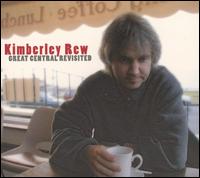 KIMBERLEY REW Great Central Revisited (BongoBeat)
As a member of the Soft Boys and Katrina and the Waves, Rew has so often played the role of immaculate sidesman. However, with his second solo album, Rew proves once again that he's also perfectly comfortable with taking the lead. And why not? When you consider the indisputable talent at his disposal, particularly his song writing and guitar playing, shouldn't such skill be declared and celebrated?
Uh-huh.
Best of all, Rew is versatile and eclectic enough to please most classic rock fans. The Byrds-evoking folk-rock of "Life Itself," the shiny Jeff Lynne rocker "English Road," the old pastoral balladry of "Adventures of the Underclass," the trad rock 'n' roll charm of "EC Blues," the Beatlesque "Philip Larkin," the spot-on commentary of "Sick of Hearing About Your Drugs" and the twangy country appeal of the title track.
I suppose the nearest reference point would be fellow Soft Boy and old mate Robyn Hitchcock (who makes an appearance on "Purple and Orange Stripes") although Rew eschews Hitchcock's trademark quirkiness and is much more straightforward. Great Central Revisited is an excellent pop-rock album that improves with each listen. A