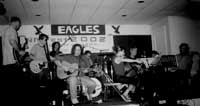 KING RADIO
Are You The Sick Passenger?
(Unreleased demo)
So why haven't you heard one of the best sophisticated alt-country chamber-pop albums of the new millennium? Maybe it's got something to do with the fact that to date it remains unreleased. Are You The Sick Passenger? a 38 minute demo from Frank Padellaro's King Radio deserves so badly to be released and recognized it isn't funny anymore.
I mean, for those serious pop lovers out there currently digging the likes of Burt Bacharach, Brian Wilson, The Pernice Brothers, High Llamas, Stereolab, Chamber Strings, Aluminum, Scud Mountain Boys, Mello Cads et al, will positively go mad with one listen to the wistful "Introduction" where acoustic guitar, heavenly strings and a throbbing bassline combine to transport you to pop paradise, will have you hailing King Radio's majesty indeed!
From then on, it's one glorious track to another, take note: the breezy "Caveat Emptor," the lovely "Meet the Maker," the jolly "Dead and Gone," the music hall campy "The Busman's Holiday," the tongue-in-cheek instrumental "Intermission," the folky "The Sick Passenger," the movin' "You Were the One," the jaunty "Am I the Same Girl?" and the erudite charmer, "Famous Umbrellas."
Let me just say, that if not for the fact that Are You The Sick Passenger? is an unreleased album, it would definitely have been in my Top 5 albums of 2003! If this intrigues you, head on down to the King Radio site to find out more and if you or someone you know would like to do the pop world a favour and release this hidden treasure, then get in touch with Frank Padellaro pronto!
A+
www.kingradio.net