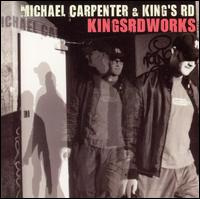 MICHAEL CARPENTER & KING'S RD KingsRdWorks (Not Lame)
The reigning monarch of Oz power pop is back with another set of characteristically superb pop songs that showcase Carpenters skill as a songwriter and a producer. More than that, KingsRdWorks also marks the debut of Carpenter's backing band viz. King's Rd, where previously the talented Carpenter played every single instrument himself!
The difference is particularly telling in the performance of each song, which is markedly more sinewy, muscular and rustic. And this is apparent right from the dense earthy riff that greets you with the opening "Nothing In The Road," which recalls the glam-infused rock of Supergrass.
The title track introduces a country-folk element to Carpenter's oeuvre, reminiscent of Carpenter's own admitted influence, Tom Petty, which fairly permeates the rest of KingsRdWorks. This twang factor continues into the pleasing "The One For Me," the driving "Home Again," the reflective "No Way Out," the brooding "Holiday" and the insistent "Walk On."
Where does this subtle shift in style come from? As Carpenter confesses in the liner notes – "It's about the honeymoon being over…" which I suppose after the sunshine pop moments of Baby and Hopefulness is where Carpenter finds himself in this particular season of this life. And we all know that country-folk inflections tend to lend itself to melancholia…
So kudos to Carpenter for continuing to grow and for following his muse, wherever it may take him. A mature effort and whilst not the final product, this album remains part of this remarkably talented musician's journey. A