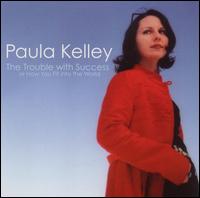 PAULA KELLEY The Trouble with Success or How You Fit into the World (Kimchee)
As much as I enjoyed Kelley's last effort – the intelligent Nothing/Everything – I must confess that I was not prepared for the sheer brilliance of The Trouble with Success. The ex-Drop Nineteens and ex-Wonderboy chanteuse has achieved with this charming album what previous few pop artists have managed: shimmering orchestral pop!
Sure, there are good benchmarks then and now – the Beatles' "Eleanor Rigby;" the Beach Boys' Pet Sounds; Curt Boettcher's various soft-pop adventures; ELO; Love's Forever Changes and in the modern age, the likes of the Flaming Lips, Eric Matthews (a contributor here); Beulah and the High Llamas, and Kelley certainly deserves to be named in such illustrious company for wondrous material like the soaring "My Finest Hour," the vibrant "A New Time," the dramatic "Could There Be A Another World," the Spectoresque "September Eyes" to name but a few of this album's gems.
Kelley and cohorts have produced a gorgeous and poignant masterpiece that begs to be savored again and again for maximum impact. Make sure you do. A www.kimcheerecords.com