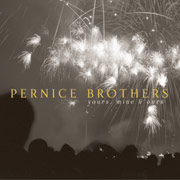 PERNICE BROTHERS Yours Mine and Ours (Ashmont)
Anyone familiar with my writing would be keenly aware of my high estimation of the talents of Mr Joe Pernice. From the moment I heard "Crestfallen," off Overcome By Happiness, the Pernice Brothers' delightful debut (on Sub Pop), I was caught, hook line and sinker! In fact, the last Pernice Brothers' release, The World Won't End was my album of 2001. So eager anticipation doesn't begin to describe how I felt when slotting the new disc into my CD player…
First off, the picture of the electric guitars on the disc itself gives the game plan away somewhat. Yours Mine and Ours feature less baroque chamber pop elements and a greater emphasis on achieving a West Coast guitar vibe. Certainly, Peyton Pinkerton's fret work is an outstanding feature of this excellent guitar pop album.
Pernice's songwriting is at its customary best and there is almost a cogent danger of taking this for granted. Enter Pinkerton to bring freshness to familiar Pernice trademarks like heart-tugging melancholia, breathy Colin Blunstone-evoking vocals and irresistibly pleasing melodies.
So on the opening "The Weakest Shade of Blue" and "Water Ban," the 12-string Rickenbacker arpeggios and Brian Wilson-styled vocal arrangements make for a potent sunshiny pop environment. The incongruously breezy "One Foot In The Grave" is driven by a guitar arrangement that rivals Johnny Marr for invention even as Pernice intones – "I know a heavy load that drags me down, but who doesn't?"
Pernice's predilection towards New Order (he covered "Leave Me Alone" for the Chappaquiddick Skyline side project) surfaces in the thoughtful "Waiting for the Universe" and the reflective "Sometimes I Remember," in fact the former recalls the New Order-Smiths spin-off Electronic.
But a Pernice Brothers album would be incomplete without its fragile and poignant ballads, to wit – the lovelorn "Judy," the hopelessly sad "How to Live Alone" and the obsessive "Blinded by the Stars."
This adds up to yet another album of subtle magnificence from Mr. Joe Pernice and cohorts – was there any doubt that this would not be the case? Don't think too much about it, folks, this is a pop album you must brighten up your collection with. A+ www.ashmontrecords.com