Steve Earle Jerusalem (Artemis)
The controversy surrounding "John Walker's Blues," the first person perspective song of the American Taliban Walker has somewhat overshadowed the rest of this thought-provoking work. Jerusalem, Earle's fifth album since his parole in 1994 is filled with musical determination and artistic zeal and his heartfelt songs reveal a prickly conscience that is as outspoken as it is pointed. Informed by the protest folk of Bob Dylan, the fragile rock of Neil Young and the ratty blues of the Stones, Earle's politicized roots rock distinguishes itself as it makes sharp commentary on the world and especially the US of A, post-911.
Apart from the contentious "John Walker's Blues," other political songs to note are: the snarling "Amerika v.6.0" with its modified "Jumpin' Jack Flash" riff and state-of-the-union lament – 'I remember when we was both out on the boulevard talkin' revolution and singin' the blues/Nowadays letters to the editor and cheatin' on your taxes is the best we can do,' the sombre "Ashes to Ashes" with its ominous tones and treatise on human arrogance – 'Someday even great walls will crumble/And every idol raised falls/And someday even man's best laid plans/Will be twisted and covered in rust,' the militant "Conspiracy Theory" with its insistent drum pattern and paranoid logic – 'What if you could have been there on that day in Dallas/What if you could wrestle back the hands of time/Maybe somethin' could have been done in Memphis/We wouldn't be livin' in a dream that's died' and the optimistic "Jerusalem" with its folk-rock charm and message of hope – 'And I believe that on that day all the children of Abraham/Will lay down their swords forever in Jerusalem.'
Lest we forget that Earle is not as one-dimensional as the critics believe, he completes the picture with ruminations on nostalgia ("The Kind"), regret ("What's A Simple Man to Do?"), encouragement ("Go Amanda") and a broken heart ("I Remember You").
Well, it certainly warms the heart to realize that it is still possible in this day and age to find artistic integrity and political conscience in good voice in the form of Steve Earle. Long may he run. A+
Sixpence None the Richer Divine Discontent (Reprise)
Personally, crossover artists like Sixpence None the Richer (from CCM to mainstream 'secular' pop) used to get up my nose somewhat but I guess I'm getting mellower in my old age – thank God! Produced by Paul Fox – responsible for helming XTC's Oranges & Lemons, Robyn Hitchcock's Perspex Island and Semisonic's debut Great Divide – Divine Discontent is perhaps SNtR's strongest effort thus far.
As always, much of the credit belongs to the nucleus of the band, vocalist Leigh Nash and guitarist/songwriter Matt Slocum. Both are in fine form here, culminating in beautiful material like the opening wonder "Breathe Your Name." With its syncopated acoustic guitar strumming, use of synthesized drum breaks and Nash's vivacious delivery, this uplifting song of dedication is unequivocal about its focus – 'I need some truth/I need some grace/The part of you/That's part of me/We'll never die/We'll never leave/And it's nobody else's but mine.'
The rest of the album maintains this level of quality with the dynamic "Tonight" with its sharp rhythmic attack and robust electric guitar design, a poignant and fairly faithful cover of Crowded House's "Don't Dream It's Over" with Nash's voice seemingly more appropriate than Neil Finn's (!), the breezy sixties-inflected "Waiting for the Sun" with its Beatlesque slides and Byrdsy arpeggios, the heartfelt ballad "Melody of You" with its demonstrative orchestral backing and the interesting "Eyes Wide Open" with its austere McCartney-like piano accompaniment.
As a work of pop, Divine Discontent provides satisfaction. For the Christian believer, the messages of grace, truth and God seeking offer that little bit extra special significance but even if Sixpence None the Richer sang about nothing, these elegant & mature songs themselves would be worth the pursuit. A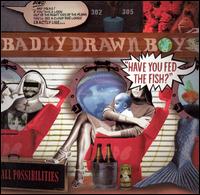 Badly Drawn Boy
Have You Fed the Fish?
(Twisted Nerve/XL)
"DIY!" screamed the punks in 1977 but as since the mainstream co-opted the punk aesthetic and turned it into MOR (Blink-182, Simple Plan, Sum 41 anyone?), it has taken 'common folk' like Damon Gough to reclaim the do-it-yourself principle.
Gough, of course, is the co-owner of Twisted Nerve Records and most critically the highly acclaimed singer-songwriter-instrumentalist Badly Drawn Boy.
With two impressive albums behind him already viz. The Hour of the Bewilderbeast (2000) and the soundtrack to About A Boy, Have You Fed the Fish a.ka. All Possibilities finds Gough doing what he does best – his own thing.
His eclectic, intricate work contrasts strongly with the slacker image he has lovingly crafted since his debut and betrays an affinity for the pop masters – Bruce Springsteen (an avowed personal favourite), Harry Nilsson, Lennon & McCartney, Ray Davies, Paul Weller – all clearly evident on this excellent sophomore effort.
Less baroque than its predecessor, on Fish, Gough expands his palette considerably to include luminous disco ("All Possibilities), old school rock ("Born Again"), jaunty pop ("You Were Wrong"), vibrant R&B ska ("The Further I Slide"), Lennonesque ditty ("Imaginary Lines") and insistent soul ("Using Our Feet") alongside his usual excursions into heartland rock balladry eg. ("Have You Fed the Fish," "40 Days 40 Nights" and "How").
Gough's closest peer would probably be Beck except that the latter varies his styles over a few albums rather than in the course of it. Despite himself, Gough has delivered yet another admirable exercise in rock and pop excellence, ignoring most, if not all of modern rock conventions and succeeding against the odds. Here's hoping he never loses his licence to thrill. A
George Harrison Brainwashed (EMI)
It is impossible to listen to this posthumous album without getting teary eyed. It is still difficult to get used to the fact that half of the Beatles is no longer with us, more than a year on. Unlike Milk and Honey, the tracks collected on Brainwashed are more than mere demos and thanks to the loving labour of co-producers with George (we're always on first name basis with the Beatles, y'know) viz. his son Dhani Harrison and old friend, Jeff (ELO) Lynne, turn out to be some of the best material from Harrison, bar Cloud Nine, since the early 1970s.
With stripped down production values (thankfully, Lynne maintains a light touch throughout) and fine attention paid to guitar details, Brainwashed never attempts to be more than it is, a tribute to the music that represented the life and times of George Harrison.
Thus, find room in your heart for an album of roots rockin' pleasers, where folk-blues, good ol' rock 'n' roll and rustic balladry hold sway. Many, many winners here, conspicuously the pleasing "Pisces Fish," the wistful "Looking For My Life," the gorgeous instrumental "Marwa Blues," the orchestral "Rising Sun," the flowing "Never Get Over You," the George Formby evoking "Devil and the Deep Blue Sea," the whimsical "Rocking Chair in Hawaii" and the rocking title track (is that the "Smoke on the Water" riff I detect?)
Lyrically challenging as George freely questions the world around him, from the Roman Catholic Church ("P2 Vatican Blues") to the conspiracy rant of the title track, fairly hit-and-miss but it really matters not as Brainwashed is a fitting testimony to the work of this inspired artist who will be sorely missed. A