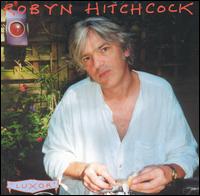 ROBYN HITCHCOCK Luxor (Editions PAF)
Like Andy (XTC) Partridge, Hitchcock seems to have been given a new lease on life since adopting the independent path in releasing his own CDs. Since Hitchcock and Warners parted company after the release of Jewels for Sophia (1999), Hitchcock has quietly released a CD per year viz. A Star for Bram (OK, actually outtakes from Sophia), NextDoorLand (with the Soft Boys), Robyn Hitchcock sings Bob Dylan and now Luxor.
Luxor marks a significant milestone in Hitchcock's life – he turned 50 in March. For this auspicious occasion, Hitchcock digs deep into his past to assume the bare acoustic styling of I Often Dream of Trains (1984) and Eye (1990), both high points in Hitchcock's illustrious career to date.
Hitchcock's references are never obscured, astute pop listeners will always pick up Syd Barrett, John Lennon, Bob Dylan, Nick Drake and Roger McGuinn in his work but Hitchcock is anything but derivative. Not only does he remains a true original but justly deserves to be named in the same breath as such luminous company.
Fans will recognise Hitchcock's trademark non sequitur lyrics and blended with his distinctive songs make for illuminating work. The breezy "One L" – ostensibly dedicated to Hitchcock paramour Michele Noach contains such nuggets as, "And death is all around us like a swarm of bees or maybe flies/They crash before our very eyes" – love and death, typical Hitchcock themes. The bizarrely poignant "You Remind Me of You" features the classic "You remind me of you when you're down in the hold/I'll have your babies if you'll have my cold." Sublime.
The pleasant folk-rocker "Keep Finding Me" is an curious examination of relationships – "So follow me, so follow me/To the entrance of yourself/Sit up straight and close your eyes and see/What became of me." The faux bluesy "Ant Corridor" reprises the obligatory insect song – "I wave it up and I wave it back/The feeler's good and the feeler's black/Samosa in the garden shed/I'm crawling over someone's head/Ant corridor to my heart/It never fades away, yeah." And the vaguely throwaway "Solpadeine" is romantic without being soppy – witness, "And God had a feeling that turned into a girl/And then a woman/And then her bones."
You can argue about whether these songs would play better in a band format or not but for now, this is a fine polaroid of Robyn Hitchcock, the artist at age 50. Good enough for me. www.robynhitchcock.com A