SPOTLIGHT ON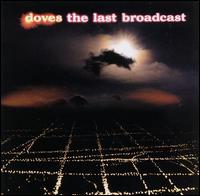 Doves The Last Broadcast (EMI)
At the turn of the last decade, the derogatory 'shoe-gazing' term was ascribed by the British music press to bands like Ride, My Bloody Valentine, Chapterhouse, Swervedriver and Slowdive. This expression failed to do any justice to the sound created but focused on the penchant of these bands to um stare at the floor during live performances. However, what distinguished these bands from their peers was the wondrous sound. Walls of it - guitars that were fuzzed, phased & oscillated till a veritable wash was produced, a heavenly ambience that was at once elevating and disturbing.
Whilst this era has clearly passed, it echoes on in the modern sound of British rock with the likes of Coldplay, Starsailor, Muse and Doves.
Doves (viz. Jimi Goodwin and brothers Jaz & Andy Williams) abandoned dance music with Sub Sub to forge an epic pop direction, taking the wall of guitars imperative of their 'shoe gazing' forbears and melding it with Spectoresque grandeur whilst never forgetting their dance roots. The result is a heady mix of styles that is uplifting, breath-taking and blissful without ever degenerating into corny sentimentality.
The Last Broadcast follows 2000's feted debut Lost Souls ands finds Doves moving forward from the mood-conscious and ethereal atmosphere of the former to lusty, vibrant buoyancy that is infectious and dynamic. It's really as if from Doves' perspective, sunlight is beginning to appear from behind the clouds as so evocatively portrayed on the album cover.
This agenda is encapsulated by the 7 minute-plus epic "There Goes the Fear" as it moves from plaintive rustic folk to pulsating rock during the course of its grand journey. With the strident "Words," vigorous "N.Y." and the incendiary "Pounding" it becomes difficult (pointless even?) to distinguish Doves from neo-prog bands like Porcupine Tree. The co-relation is irresistible and to describe the music Doves as progressive is simply accurate.
This assessment is confirmed by the poignant "Satellites," the resplendent "Friday's Dust" – highlighted by Sean (High Llamas) O'Hagan's orchestral arrangements, the sprightly title track, the majestic "The Sulphur Man" and the breezy "Caught by the River."
So forget about the labels (I always do), Doves deliver music that is vital and relevant in these depressed days & provide a fleeting glimpse of escape and a glimmer of hope. Isn't that what the best pop music is supposed to do? A