SPOTLIGHT ON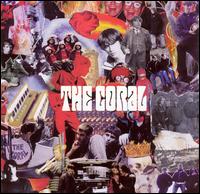 The Coral The Coral (Deltasonic)
The British music press are notorious for over-hyping fledging bands as the 'Next Big Thing' whatever the actual merits. Well, meet this year's model – The Coral – whom the NME has described as 'so inspired and refreshing that they leave all the US pub rockers for dead. In a little under 12 months, they've constructed their own uniquely mythic universe - a world of surreal twists and romantic adventure soundtracked by a dazzling creativity that sucks influences from just about every strain of music ever invented,' and no less than the modfather himself (er, Paul Weller) has given his stamp of approval.
So, the question remains – can The Coral live up to the hype?
That depends, mainly on what you look for in a new artist. If, like me, you're searching for stylistic eclecticism, lyrical wit, melodic inventiveness and exuberant enthusiasm, then yes, by golly, the music of The Coral is certainly the finest sound to come out of the British Isles for some time now, at least since Blur was at its creative peak in the 1990s, perhaps.
Nothing will prepare you for the pleasant surprises that will greet you the moment you get closely acquainted with this ambitious effort. Scholars of the pop medium will certainly have a field day spotting the diverse influences and references The Coral regularly allude to in its repertoire.
First off, there's no mistaking the inherent Syd Barrett vibe on this eponymous debut – the psychedelic slide guitar on the sing-a-long shanty "Spanish Main" and the fuzzy riff intro on the Merseybeat-styled single "Goodbye" most evident instances. Not to mention the general otherworldly atmosphere that permeates the album.
In addition to these freakbeat elements, one can also divine a definite predilection towards the two-tone ska of The Specials, Madness, the Beat and the Selecter in the delightfully camp "Shadows Fall," the energetic Motown-inflected "Dreaming of You" and the stomping Zappa rave-up "Skeleton Key."
Discerning listeners will also thrill to the Hendrix guitar solo on the slightly atonal "Badman," The Who chordal gymnastics on "Wildfire" and the Jim Morrison (or is that Ian McCulloch?) impression on the rustic schizophrenic "Calenders and Clocks."
Still there's more, hidden in the last track (from about 5:50 minutes in) is the colourful loose reggae ditty "Time Travel" with its semi-humorous cautionary lyrics against the subject matter and Bob Marley-isms, pretty much sums up what The Coral are all about – anything and everything a serious pop lover could possibly care about. And that should include securing a copy of this essential album post haste. A+