SPOTLIGHT ON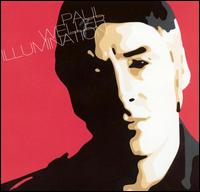 Paul Weller Illumination (Independiente)
Paul Weller's sixth proper studio album has been described in some quarters as a return to the ex-Jam leader's former glories. I disagree and not for the reason you might expect. Ironically, I submit that Weller's commercial apex with Stanley Road was rather flawed and since then with Heavy Soul, Heliocentric and now Illumination, Weller has hit a rich vein of form that proves that he has been artistically rehabilitated after the fiasco of the last few Style Council LPs – the less said the better!
It's not that I thought that the first three solo albums were bad, I suspected that Weller was capable of so much more. So glad to be proved right!
Weller is in full control here, aided by loyal sticksman Steve White, Weller plays all other instruments heard, with the occasional contribution from members of Ocean Colour Scene (Damon Mincella, Steve Craddock), Oasis (Gem Archer) and Stereophonics (Kelly Jones) – Weller fans to a man.
A man of habit, Weller never quite veers from his solo trademark Britpop cum Northern Soul style incorporating rustic and R&B flavours intelligently and seamlessly. However, there remain faint echoes of the classic Jam especially in the Townshend-ian flourishes found on the pleasing "Leafy Mysteries," where the acoustic guitar is used to great effect and contrasted against the power chord cacophony that ultimately ensues.
There are surprises also in store for long-time Weller followers in the politically-charged "A Bullet for Everyone" which features squalling Hendrix guitar & "It's Written in the Stars" utilizes a horn sample (!) as rhythmic foundation.
Mostly, however, Illumination is prime Weller. "Going Places" is vibrant soulful rock; "Who Brings Joy" is jazzy balladry; "Now the Heart is Here" is mid-tempo romantic pop, "Bag Man" is pure English folk, "All Good Books" is smooth Motown soul & "Call Me No. 5" is strident jangle.
Maintaining the fine standard Weller has set in this his latter years, Illumination will not disappoint lovers of British guitar pop – a genre for which this man has already achieved legendary status. A