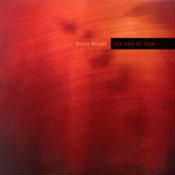 STEVE WARD See and Be Seen (Lucky Records)
Powerpop fans are probably familiar with Ward as the cherubic singer-songwriter who thrilled the pop underground with the highly-feted Cherry Twister. The solo Ward, is however, a totally different proposition. See and Be Seen is Ward's sophomore release on his lonesome, and continues in similar vein as his fine debut.
Ward's ear for melody is still strong and also his uncanny knack of snatching key pop moments and turning them into pivotal arrangements that truly hit the spot. Even more amazing when you realize that the recording was put together by Ward by himself "in a barn by the river."
Significantly, See and Be Seen captures Ward's rustic ambitions perfectly as accordions, pedal steels and country inflections make a major impact on the musical palette presented. Thus, songs like the languorous "Down By The River," the homey "The River Leads Me Home" and the pastoral "Days" & "Flow" will definitely leave a positive impression.
More customary pop-rock elements surface on the sophisticated "The Death of a Star," the moody "Evergreen" and the jaunty "The King of Sinking Spring" where the long shadow of Brian Wilson is inescapable and welcome.
Yes, folks, this is one for all fans of pop power, in whatever form it may take. A