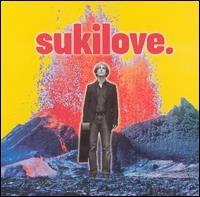 SUKILOVE Sukilove (A Hidden Agenda)
Sukilove is a Belgian quintet revolving around the not inconsiderable talents of Pascal Deweze. Having released a well-received home-recorded mini-album in 2002 which highlighted the truly gorgeous "Talking in the Dark," Deweze and co are back with this eponymous full-length debut that builds well on the vaguely psychedelic alt-country approach of the mini-album.
With one blatant caveat – Deweze gives full play to his obvious late Beatles McCartney obsessions on this outstanding effort.
Believe it!
The gild-edged chorus of "Hang On," faux Latino vibe "Shame You Never Worry," the breezy "Computing Beauty," the rustic "Just A Lazy Day," the pensive throb of "As Long As I Survive Tonight," the manic "Man (Ain't Man Enough)," the bluesy "There's A Light" and the poignant "Good Blood Will Prevail" would probably not feel too out of place on Abbey Road.
The wondrous beauty of "Talking in the Dark" remains the high point of Sukilove's repertoire so far but it's comforting to note that Deweze is giving his abilities a good old stretch. A - www.parasol.com