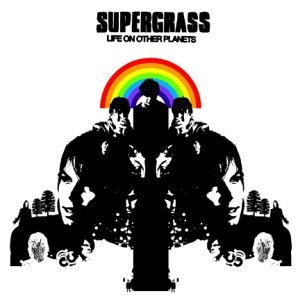 SUPERGRASS Life On Other Planets (Parlophone)
A gap of three years between the eponymous third album and Life on Other Planets seems to have done the 'Grass a world of good seeing as how the final third of Supergrass fell a little flat. With Rob Coombes confirmed as official fourth member, the band appears to be in fine fettle in this vibrant collection.
The main difference is in the sheer energy levels of the material here and the unambiguity of the rock period Gaz Coombes and company so shamelessly purloin for their own inventive purposes. Okay, I won't keep you in suspense, it's the glam rock era of the early 70s where the likes of David Bowie, T.Rex, Mott the Hoople and Todd Rundgren (amongst other lesser lights) popped the boogie all over the 70s rock scene.
"Za" establishes the mood just perfectly as an insistent piano intro makes way for full throttle guitar riff straight of the Marc Bolan songbook – the evocation is so uncanny, you could almost swear that the late great Bolan was on vocal duties as well! "Seen the Light" continues firmly in this vein and is an even better song that deserves to be played on the radio for the next year, at least!
"Can Get Up" is a moody piece that recalls Ian Hunter and the classic Mott the Hoople funkier moments, whilst "Evening of the Day" suggests the acoustic-flavored Bowie from Hunky Dory. More Bowie surfaces on the frenetic "Never Done Nothing Like That Before" which wouldn't have been out of place on Ziggy Stardust & the Spiders of Mars.
If you think that I'm accusing Supergrass of being derivative and unoriginal – think again! Even though the roots of inspiration for many of the great tracks here go back thirty years or more, Supergrass manage to inject freshness and a distinct sense of personality. Cases in point, the pleasing rocker "Grace" and the dynamic "LA Song" where the 'Grass succeed in sounding like no one else.
I must confess that I was concerned about how long Supergrass would be able to maintain their own high standards, I rest assured that with the evidence of Life on Other Planets, any thoughts of a premature decline are ill founded.