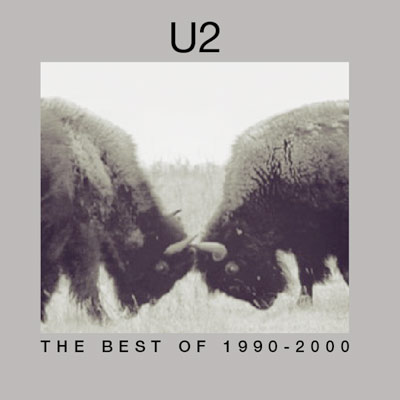 U2 Best of 1990 – 2000 (Island)
Uh-oh, it's U2's gold lame mirror ball disco pop decade. I approached this collection with trepidation as I had after Achtung Baby effectively given up on these former heroes of mine. Let's put it this way – I abhorred Zooropa & Pop and found slight relief with All You Can't Leave Behind. On the other hand, a retrospective of the U2 of the 1990s provided an opportunity to distil the wheat from the chaff and so here goes nothing…
It begins with Achtung Baby as U2 reeled from the critical lambasting received from the Rattle and Hum movie and soundtrack album, abandoning the sincere and earnest anthems that had made them superstars and diving head first into the dark and sleazy world of Berlin.
Reminiscent of the famous Berlin albums of David Bowie (Low, "Heroes") and Iggy Pop (The Idiot), Achtung Baby revealed a re-invented U2 – their uplifting effervescent epic rock replaced by moody electronic driven dance-inflected droners. Three tracks figure here – the glam psychedelic "Even Better Than the Real Thing," the catchy sing-along "One," the poignant "Until the End of the World" and the sleek "Mysterious Ways." The Boy had become a Man, indeed.
Even though the following two albums were in my opinion fairly risible, they did contain some gems, most notably, the dreamy "Stay (Faraway, So Close)" – inspired by Wim Wenders' Wings of Desire film, the intrepid "Gone" and fragile "Staring at the Sun," albeit presented in a new mix to align them to the 'back-to-basics' direction of All You Can't Leave Behind. Speaking of which, only the anthemic "Beautiful Day" and the soulful "Stuck in a Moment You Can't Get Out Of" make the cut here. Also included are the odd tracks contributed to outside projects – "Miss Sarajevo" from Passengers, "Hold Me, Thrill Me, Kiss Me, Kill Me" from the Batman Forever soundtrack and the recent award winning "The Hands That Built America" from the Gangs of New York soundtrack, all worthy additions.
Significantly, unlike the Best of 1980-1990 set, the b-sides pale in comparison to such sterling efforts like "11 O'Clock Tick Tock" and "The Three Sunrises." Nothing here even comes close and there is a disturbing dependence on producer's remixes, the most annoying being the Perfecto Mix of "Even Better Than the Real Thing" – ugh!
So all right, not as bad as I thought it would be but still an incredible disappointment when matched with the first U2 decade – it remains to be seen where U2 move on to in the new millennium. B-