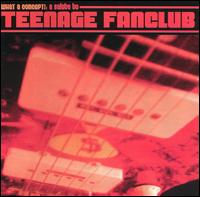 VARIOUS ARTISTS
What A Concept!: A Salute to Teenage Fanclub
(Not Lame/Wizzard in Vinyl)
A tribute album to the Fannies?
Now, why did this no-brainer um…concept take so long to see light of day? I mean, when you think of the quintessential modern day power pop legend, you can't really think further than Teenage Fanclub, can ya?
And who better to put it all together than power pop standard-bearer Bruce Brodeen and his fabulous Not Lame label?
So who's on it?
Doesn't really matter, cos the songs are so powerful, even a collection of "by-the-numbers" facsimile versions would make What A Concept! an attractive proposition.
Thankfully then, instead we are blessed by the cream of the power pop circles with the likes of The Shazam (a shambolic "The Concept"), Redd Kross (a truly dynamic "Everything Flows), my good mate Michael Carpenter (an appropriately loose "Neil Jung"), Receiver (a faithful "What You Do To Me), Superdrag (a driving "Radio"), Cloud Eleven (a heavenly "Ain't That Enough"), Gigolo Aunts (a heartfelt "Alcoholiday"), Splitsville (a psychedelic "Tears Are Cool"), Chewy Marble (a jaunty "Metal Baby"), The Mockers (a metallic "Hang On"), Cliff Hillis (a breezy "Can't Feel My Soul"), Crash Into June (a inspiring "Winter") and much more.
Right, the usual suspects and almost each one a personal favorite – absolutely essential for fans of the Fannies, power pop and Power of Pop visitors – oh yeah, that means all of you reading this! A+ www.notlame.com www.wizzard-in-vinyl.com
NB. Completists out there take note – whilst the album lists 24 tracks, the last song for the Not Lame and Wizzard-In-Vinyl versions differ. The former being Joyride's sugary take on "Near You" and the latter, The Trainwrecks' fuzzy approximation of "Starsign." Don't worry about it too much – get both!