SPOTLIGHT ON: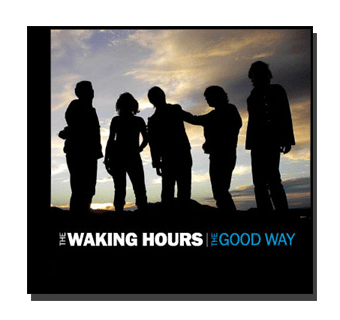 THE WAKING HOURS The Good Way (No Deal)
Spread open the CD sleeve and you will no doubt catch glimpses of albums by The Left Banke, Todd Rundgren, The Divine Comedy, Raspberries, The Jam, Beach Boys (Pet Sounds, natch!), Pete (Badfinger) Ham, Eric Matthews, KISS et al. Which, apart from being a blatant indication of the kind of sound that greets you on The Good Way, also serves to reassure classic pop fans (like myself) that we're in good hands with The Waking Hours.
This self-released follow-up to Time Bomb (under the drolly named No Deal label) will not take too long to get under the skin of any card-carrying power pop enthusiast. It's a no-brainer really, owning this album is akin to wearing a badge – swearing allegiance to the power pop flag. Everything that you ever loved about our beloved music is in heavy evidence here.
C'mon, work with me here, folks – blissful harmonies, ardent performances, hook-laden choruses and that wondrous beat. Near perfection sprinkled like fairy dust over such choice songs like the melancholy "Everything's Alight Forever," the crunching "Used to It," the bouncy effervescent "Sunshine," the big balladic (nearly Oasis-like) "Almost Nearly There," the straight ahead garaged "Revenge" and the trippy sentimental "Do What You Gotta Do."
Need I say more? A