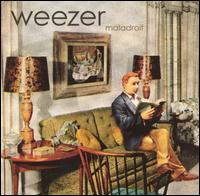 WEEZER Maladroit (Geffen) www.weezer.com
Rivers Cuomo and co didn't waste any time to issue a follow-up to last year's eponymous third Weezer disc (referred to as the Green Album). Maladroit arrives with stories of Cuomo coercing Geffen into releasing the album earlier than expected by threats to making the songs freely available on the Internet.
And it's a good thing for fans of this remarkable band as Maladroit is typical Weezer – cracking tunes, crunching guitars and clever lyrics – a wonderful combination. Fourteen songs (my review copy includes a bonus – Island in the Sun) that take under 40 minutes to deliver its dynamic power pop dose. Like sophomore effort Pinkerton, Maladroit is self-produced and therefore a tad more visceral than the two Weezer (blue and green) albums produced by Ric (The Cars) Ocasek but that never detracts from the excellent qualities found on this disc.
American Gigolo opens Maladroit with a kick-ass metal riff and an ironic look at love, the sing-a-long Dope Nose (which would be a certain radio hit if not for the un-P.C. title) with its hilarious "For the times that you wanna go and bust rhymes real slow/I'll appear, slap you on the face, and enjoy the show", the glam-rock fest of Take Control hits between the eyes with authority and panache, Death and Destruction is probably the closest Weezer get to a ballad and its melancholy majesty is evident amongst the pummeling drums and fuzzy overdriven guitars and Burndt Jamb even manages to invoke Todd Rundgren's blue-eyed Philly soul inflections which Weezer appropriate brilliantly.
This is classic modern rock at its best. A