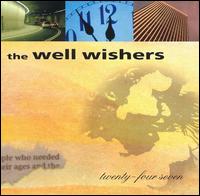 THE WELL WISHERS
Twenty-four Seven
(Not Lame)
How can anyone get tired of the sheer musical passion and melodic intensity that quality power pop offers? Chiming Rickenbacker arpeggios, charming tunes, power chord dynamics, walls of harmonies, frenetic drum work, jaunty rhythms, orchestral constructs – there is no limit to what artistic power pop can sound like.
As much as I enjoyed the work of Jeff Shelton's Spinning Jennies, I've always thought that Jeff could do much more than the driving guitar pop that his group excelled in.
I was right!
The Well Wishers is essentially Jeff in charge with assistance from Nick Laquintano, Tom Heyman and Justin Weis and the result is perhaps one of the best power pop albums of the year.
With Twenty-four Seven, Jeff casts his net wider to include nods to Macca – the pleasant ditty that is "One Sweet Nothing," Guided By Voices channeling the Who – the beaty and bouncy "See For the First Time," Robyn Hitchcock – the mildly psychedelic "Golden Arrow," the Zombies – the baroque splendor that is "Dead Again," Jayhawks – the nu-country nugget that is "Something On Your Mind" and Bob Mould interpreting the Byrds with the vigorous folk-pop of "Bleed on the Outside."
Great references as these influences are, Jeff's crowning achievement is to sustain a consistent flow throughout to produce a kaleidoscopic presentation of our beloved artform. A- www.notlame.com