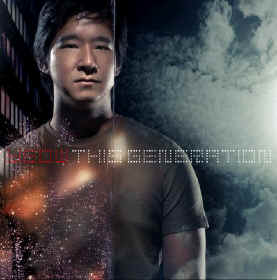 YEOW This Generation (Chemistry)
Yeow is a man of many talents – singer, songwriter, musician, engineer, producer etc etc – he played guitar in the legendary Singapore outfit, Zircon Lounge and released a commendable first album (What I Require) almost a decade ago.
On this long overdue follow-up, Yeow proves that he is a precious Singaporean talent with an eclectic collection of winning material that range from heartfelt ballads ("Impossible," "Run," "Bubbleman"); slick mid-tempo rockers ("This Generation,"); moody jazz-soul pieces ("Skin," "Same One Sky," "Hole") to electro dance numbers ("Pure").
The highlights in an impeccable bunch include "Impossible" as Yeow waxes lyrical about love & a special relationship with a stunning chorus that will stick in the memory for a time to come; "Bubbleman" attempts to comment on politics with a style that recalls Oasis in one of their pleasing Beatlesque folky moments and the opening title track where R&B inflections are suitably emphasized by bluesy guitars and female backing vocals (ala the Stones' "Gimme Shelter").
Considering the state of the moribund Singapore music scene, This Generation comes across like a proverbial kick in the arse and I would highly recommend it to music lovers who require sophistication and simple good taste in their pop diet. (www.chemistryteam.com/yeow)