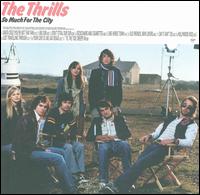 THE THRILLS So Much For The City (Virgin)
For a band whose name is allegedly inspired by Michael Jackson's Thriller and has also been known to cover "Billie Jean" in their live act, it comes as a bit of a surprise that their entire repertoire is lifted almost wholesale from the West Coast rock scene of the 60s and 70s.
This Irish quartet viz. Conor Deasy, Kevin Horan, Padriac McMahon, Daniel Ryan & Ben Carrigan, has a serious American fixation if the number of US locales (4) referenced in its song titles is any indication. Singer-songwriter Deasy is also quite obviously obsessed with the late great Gram Parsons as his fragile tenor echoes the Americana legend that lived fast and died young.
Musically, there is no mistaking the sound of the Beach Boys, Byrds, The Band and of course Parsons in this pleasing debut. In truth, the first half is rather mesmerizing. The opening "Santa Cruz (You're Not That Far)" intrigues with its varying time signatures, "Big Sur" dazzles with its jaunty vibrancy, "Don't Steal Our Sun" delights with its Wilsonesque effervescence, "Deckchairs and Cigarettes" touches with its balladic charm and "One Horse Town" rocks with its melodic dynamism.
The rest of So Much For The City tails off ever so slightly but not such as to compromise its value as a classic debut album from a big talent to watch out for. A